Long Fall Boots

Boots that negate all fall damage when you wear them.

That's it, plain and simple.

Inspired by the Long Fall Boots found in the game, Portal

Recipe: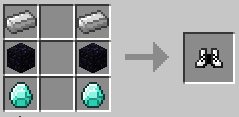 Hard Mode recipe is the same. but Blocks instead of ingots and a nether star in the bottom middle slot <3

I know this is bad practice, but REPORT BUGS AND CRASH REPORTS HERE

There is no Github project at this time.
---